Ocala, Florida Truck & Trucking Insurance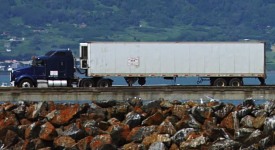 Welcome to Butler Insurance Group: Your Trusted Partner for Comprehensive Commercial Truck Insurance in Florida
At Butler Insurance Group, we can help you find the right coverage at a fair price for your truck or trucking insurance needs in Ocala, Florida including the Daytona Beach, Gainesville, Orlando, Tampa, and The Villages areas.
At Butler Insurance Group, we understand that the success of your trucking business depends on more than just the vehicles you operate; it's about protecting your assets, your drivers, and your peace of mind. As a premier insurance agency specializing in Commercial Truck Insurance in Florida, we are dedicated to providing tailored insurance solutions that cater to the unique needs and challenges of the trucking industry.
Why Choose Butler Insurance Group for Your Commercial Truck Insurance Needs?
Expertise: With years of experience in the insurance industry, our team of experts possesses an in-depth understanding of the complexities associated with the trucking business. We are well-versed in the regulations, safety standards, and specific risks that commercial trucking companies face daily.

Customized Solutions: At Butler Insurance Group, we recognize that no two trucking companies are identical. That's why we work closely with you to develop insurance plans that align with your specific operations, fleet size, and coverage requirements. Whether you own a small fleet or manage a large-scale operation, our tailored solutions have got you covered.

Comprehensive Coverage: Our range of Commercial Truck Insurance options extends to cover various aspects, including liability coverage, physical damage protection, cargo insurance, and more. We ensure that your business is shielded from potential financial losses resulting from accidents, theft, or unforeseen incidents.

Competitive Rates: We understand that managing costs is essential for any business. Our commitment to finding cost-effective insurance solutions means you can safeguard your trucks and drivers without breaking the bank.

Responsive Claims Handling: In the unfortunate event of a claim, our dedicated claims specialists are here to guide you through the process, making it as smooth and hassle-free as possible. We're your advocate, working to ensure your claims are processed promptly and fairly.

Risk Management Resources: Prevention is key to minimizing risks in the trucking industry. Our team provides access to valuable resources and guidance to enhance your safety protocols, mitigate potential hazards, and ultimately reduce the likelihood of accidents.
Our Range of Commercial Truck Insurance Coverage Includes:
Primary Liability Insurance: Protects you from third-party bodily injury and property damage claims arising from accidents involving your trucks.

Physical Damage Coverage: Covers the repair or replacement costs for your trucks if they are damaged due to collisions, vandalism, or other covered events.

Cargo Insurance: Safeguards the valuable cargo you transport, providing coverage in case of damage, theft, or loss during transit.

Non-Trucking Liability: Offers liability coverage for drivers when they're using their trucks for non-business, personal purposes.

Motor Truck Cargo Insurance: Ensures that the goods you transport are protected against various risks during transit.
We work with some of the top rated companies for your commercial truck insurance policy and tailor a package that meets your truck and trailer needs.
Truck Insurance Coverages in Ocala, Florida
Primary Liability - This coverage option protects you from damage or injuries to other people as a result of a truck accident. This coverage is mandated by state and federal agencies
Comprehensive Physical Damage and Collision Coverage - This insurance is coverage for your truck and trailer. This coverage is for repair or replacement for damage resulting from things such as collision, fire, theft, hail, windstorm, earthquake, flood, mischief, or vandalism to your owned vehicles.
Motor Truck Cargo Coverage - Motor Truck Cargo insurance protects the transporter for his responsibility in the event of damaged or lost freight. The policy is purchased with a maximum load limit per vehicle.
General Liability - This coverage provides protection for injuries or property damage sustained while on your premises, using your products or services, or because of a breach of contract. Our company can offer you many lines of coverage for Artisans Contractors, Contractors Liability, Contractual Liability, Electrical Work, and Plumbing.
Non-Trucking Liability/Bobtail Coverage - Non-Trucking Liability (Bobtail Coverage) provides limited liability insurance for owner-operators who are permanently leased to an ICC regulated carrier. It provides limited liability protection when the owner-operator is not on dispatch, nor pulling a loaded trailer.
Contact Butler Insurance Group Today!
When it comes to Commercial Truck Insurance in Florida, Butler Insurance Group stands out as your reliable partner. We're committed to providing you with the peace of mind you need to focus on growing your trucking business. Contact us today to discuss your insurance needs and explore the customized solutions we have waiting for you. Your success is our priority, and we're here to protect it, every mile of the way.